Perfect Desserts & Drinks Ideas For Your Next Corporate Event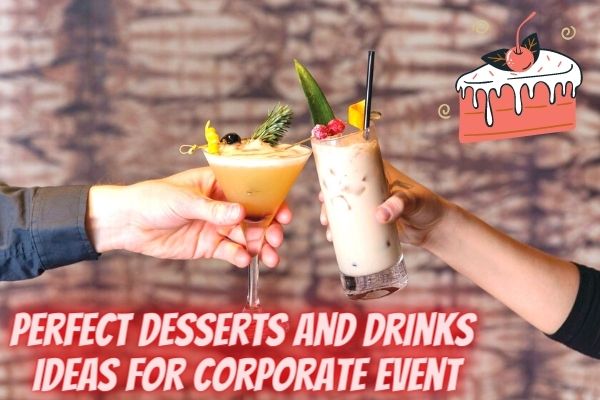 You can blow the guest's mind by showcasing the perfect dessert decoration. Food is the staple thing of every party or get-together. If food decoration or food taste is not appropriate you will be failed to impress the guests. When you are planning a corporate event your creativity must flow with standard decoration. So give your party a nice lookout by decorating the food table with the best drinks & desserts for your corporate events or any parties.
Take some time to read the instruction of dessert table decoration. This is going to be the biggest surprise for the party guests and they would definitely love this skilled decoration made by you.
1. Cupcakes:
Instead of offering big cakes I firmly believe put different types of cupcakes on the sweet table. You can make the cupcake tower, cupcake bouquet, or cupcake pyramids for a picturesque outlook. You can also mix continental and sweets at the same time by preparing burger cupcakes. The upper and bottom layer of the cupcake is covered with a tiny burger loaf. You can use a toothpick to give it a nice hold. So this is how you can enhance the look of sweets in the BBQ theme.
2. Chocolate Flowers:
There are immense varieties available in chocolate flowers. You can buy ready-made chocolate flowers made in different shapes and colors. If you want to do something creative you can use this trick. The flower petal is made up of chocolates. Once you pour hot chocolate in the sides the petals open and it discloses the hidden treat. Well for this trick you have to call the bakers to make such type of decorative chocolate flowers.
3. Edible Flower Cookies:
You can use tons of edible flowers to execute this dessert. First of all order cookies online and arrange them in square rectangle or flower shape. Then use an icing crème as a glue to stick those edible flowers on the cookies. Now adorn the cookies with flowers. Edible flower cookies can be stored thereafter to use as a thank you gift.
4. Donuts:
Dried desserts look bore and dull if they are not served with hot beverages. So here you can plant to pair up the donuts with hot drinks. You can use hot coffee, hot cocoa milk, hot chocolate, or warm apple cider for a change. It really enhances the experience of eating something sweet.
5. Churros :
Churros is a spiced and sweet snack served with hot chocolate, hot milk, hot apple cider vinegar, or tangy deep sauces. Churros taste good and give a nice balance of taste when paired up with drinks and sauces. You can decorate the churros in mini paper pockets. You want to give something sweet and nice to someone special send chocolates online to Spain from here.
6. Champagne & Beer:
Champagne and beer are the signature drinks that served in corporate events. Corporate events are big and you cannot compromise with the quality given by Qflores.com. You have to make the champagne and beer corner for the wine tasting experience. You can also plan to set up a beer station where they can enjoy favorite boozy beer and champagne serve chilled.
7. Non-Alcoholic Beverages:
Maybe some guests are not interested in alcoholic drinks. So you have to make it clear by setting up the non-alcoholic station. There you have to serve the mocktails which are refreshing and made with lots of fresh fruit juices. You can also serve organic juices freshly served with no added preservatives or sugar. This family-friendly station can be enjoyed all age groups.
8. Red Wine:
Red wine is the popular beverage served in all types of occasions, especially in corporate and adult parties. So don't disappoint those red wine lovers. Set up one station where they can enjoy different types of red wines at one time. From cabernet sauvignon to Merlot you can set up the wine station to enjoy their favorite drinks all during the party time. You can also serve dark chocolates, milk chocolates, and some cheesy snacks to enjoy drinking wine.
9. White Wine:
Also, appreciate their love for white wine by making the white wine station. This light wine is bubbly and not very much acidic and for this reason, people love to drink soft and boozy white wine drinkers. There are too many varieties available in online wine delivery so better you call the winery shops to arrange the wine station to serve the branded wine varieties.
10. Cocktails:
Cocktails are served in the entrance to blow the mind. The refreshing and cooling drink is made to add the cooling sensation. It rehydrates the throat instantly in the summertime. This summer drink can be served with alcohol too in Spain. You can serve both alcoholic and non-alcoholic cocktails.
Qflores. Com is on your way to deliver the classic arrangements of flowers for special occasions.
Its small-scale boss's promotion event or you are organizing a product launching party, you can use these desserts and drinks serving formulas for the upcoming corporate event. You can execute all the plans by contacting to party organizer. Set the wine and drinks stations accordingly as per the needs, it is very much needed to get the compliments from the boss. Hope so you like this article and share it with colleagues too.