Fun Activities You Can Do with the Elderly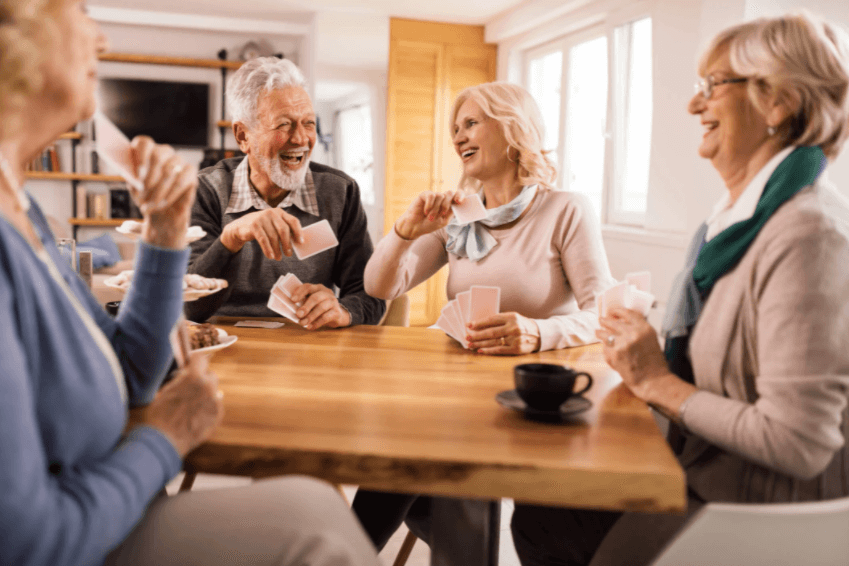 Whether you are thinking of your parents or your grandparents or simply want to participate in giving the elderly some much-needed company or things to do, there are many reasons to get involved with fun activities for the elderly. Loneliness can be a real issue among the elderly, with statistics showing that 28% of older adults, which is around 13.8 million people, suffering from this heart-breaking problem. Many elderly people will also find themselves becoming isolated as friends pass, socializing becomes more difficult for one reason or another, and their physical abilities may diminish as they age. These are all factors that could lead to an elderly person experiencing a lesser quality of life. So, if you are wondering what you can do to prevent this from happening, we have written this guide with some ideas of fun activities you can do with them!
Life Story Exercises
Starting this piece with something that truly does benefit everyone, having a 'story time' set up with the elderly can be a magical experience. Not only do they get to reminisce with (hopefully) fond memories and happy stories of the past, but it can also be fascinating for the listener. All elderly people have lived in a time where we do not know much about them, so the opportunity to learn while giving them a chance to remember their younger years can be a rewarding experience for everyone involved.
To turn this into something more tangible, why not create a workshop or crafts class out of it? Use a scrapbook for them to collect their memories and write their stories down so they can treasure them, or it can be used as a keepsake for others too! There are no limits when it comes to scrapbooking, so let them express themselves in whatever way they feel they would like to.
Art Classes
An aging brain can have a profound effect on creativity, so setting up a creative activity will go a long way to help counteract this process. As we get older and retire, we hope to have a lot of spare time to do the things we love or the things we have always wanted to try, so if this is the case for the elderly person in question, then an art class might just be the perfect fun activity for them to do. Not only is it important that they engage in activities that they will enjoy, but art classes are also great for meeting other people and sharing passions with others too, which makes this a winning combination.
Live Music
There are many reasons the elderly should be involved with live music, if not for the sole reason that many of them contributed to the classics we know and love now. Music can have an amazing impact on the brain, especially the older brains, and this goes past being purely enjoyable. Music is fantastic at helping recover lost memories, so for those who are experiencing a memory-related issue such as dementia or Alzheimer's, music can bring them back to their former selves. This can be really important in contributing to their self-identity and understanding and can also improve their cognitive function. Live music is also shared with others, which can give this particular idea a social element that is just as important, which then has the potential to create a fantastic bonding experience.
Live music can come in many forms. You might want to take your elderly person to a concert or see a band of their choice, but you might also want to create a space where the elderly can make their own live music. It can be particularly magical to watch elderly people who used to be prolific in playing an instrument have their muscle memory come back to life the moment their chosen instrument is in their hands. Then imagine doing that with a group, who could then go on to have their own jam session! Care homes such as Brandywine Living have time dedicated to specifically this as an activity! 
Music is a beautiful way to bring everyone together, but the elderly definitely benefits from it in such a unique way that it is one of the best ideas for a fun activity.
Pet Therapy
Having a pet is hard work. They cost money, they take up time, and they are a lot of responsibility. For many of us, this is a price worth paying to have some little friends in our lives, but for those such as the elderly – this is not always an option. Animals make wonderful companions, and it is sad to know that some people can miss out because they are just not able to deal with the commitment of having a pet or are not physically able to look after it. This is where pet therapy comes in. There are so many benefits of pet therapy for the elderly. Some of these include increased self-esteem by allowing the elderly to improve their communication skills and lessen their anxiety. They are also brilliant for promoting relaxation and can have a calming effect on those experiencing dementia or Alzheimer's symptoms.
For the elderly who are able to look after a pet or have access to a pet on a regular basis, this can also be great for creating a sense of purpose by having something that relies on them and something to look after. It can also encourage exercise, which is extremely beneficial to health.
Spa Days
Plenty of people love a spa day out, and in the life of retirement, there should be plenty of them! Now is the time for relaxing and unwinding, so taking out your elderly loved one for a spa day can be exactly what they need. Whether you just opt for a swim and a sauna or decide to get treatments such as a massage together, these activities foster well-being, which is essential for mental health in the elderly, and self-confidence!